Shop Products
DAE Hose is an expert in the field of rubber products, with many years of experience, we serve a wide of range industries including offshore engineering, oil industry, tunneling, water treatment, chemical, mining and quarrying, shipbuilding, machine manufacturing, and agriculture.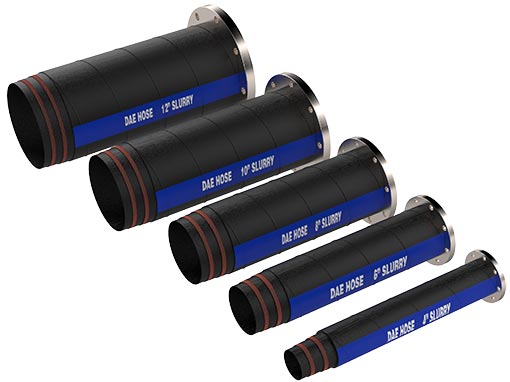 Slurry Suction/Discharge Hoses are suitable for use in agricultural, construction, and mining industries. Inner rubber layer has excellent abrasion resistants and the high quality outer cover has excellent corrosion resistance. The hose is suitable for water, sea water and light slurry in both negative and positive pressure applications.
Design for Maximum Wear Life
Minimize Flow Resistance
High Adaptability
Easy to Maintain
High-pressure steel wire reinforced hydraulic hose is mainly used in hydraulic support, engineering construction, lifting, transportation, mining equipment, vessels, agricultural machinery, and all kinds industrial departments that require high pressures of oil and water-based liquids and hydraulic transmission.
Excellent Performance
High-Tensile Steel Wire Braid
Petroleum & Water-Based Fluids
Exceeds SAE Standards
Contact Us Today
Please contact our sales team for product questions or if you need help selecting the best dredge or pump system for your application.
Phone: (760) 821-8112
Email: info@daehose.com
Business Hours: 7:30a-5:30p Monday-Friday